With WrestleMania 36 in the rearview, Friday Night WWE SmackDown will continue to build towards Money in the Bank.
The biggest development on the SmackDown side during WrestleMania 36 was the defeat of Goldberg. Braun Strowman, who replaced Roman Reigns in the Universal Championship match, defeated the WWE Hall of Famer to earn his first world championship in the company.
Now that Strowman made Goldberg "get these hands," who is next for the "Monster Among Men"?
Alexa Bliss and Nikki Cross surprised the WWE Universe when they defeated The Kabuki Warriors for the Women's Tag Team Championships. This Friday, Asuka and Kairi Sane will get a rematch against Bliss and Cross to try and recapture the titles, but can the new champs swat the former titleholders away?
"The Fiend" Bray Wyatt had the most mind-bending match at WrestleMania 36 with his Firefly Fun House match against John Cena. After a twisted journey through the career of John Cena, Wyatt made the 16-time champion disappear. Will we learn Cena's fate and what's next for Wyatt?
---
---
Otis overcame Dolph Ziggler on Sunday with the help of Mandy Rose. Now that Mandy Rose and Otis are together, what's next for the new couple and will Fire and Desire ever be the same? And who is the man under the hood who exposed Sonya Deville and Ziggler's plot to break up Otis and Mandy?
Morrison successfully retained the SmackDown Tag Team Championships by defeating Kofi Kingston and Jimmy Uso in a brutal ladder match on the first night of WrestleMania 36. With Morrison doing the work for him and Miz, who will be next up for the titles?
Sami Zayn and his artist collective of Cesaro and Shinsuke Nakamura got the best of Daniel Bryan and Drew Gulak to retain the Intercontinental Championship. With the way Sami continues to dodge Daniel Bryan, will the former world champion eventually get his hands on Zayn and another shot at the IC title?
Here's everything that happened on the April 10 episode of Friday Night SmackDown: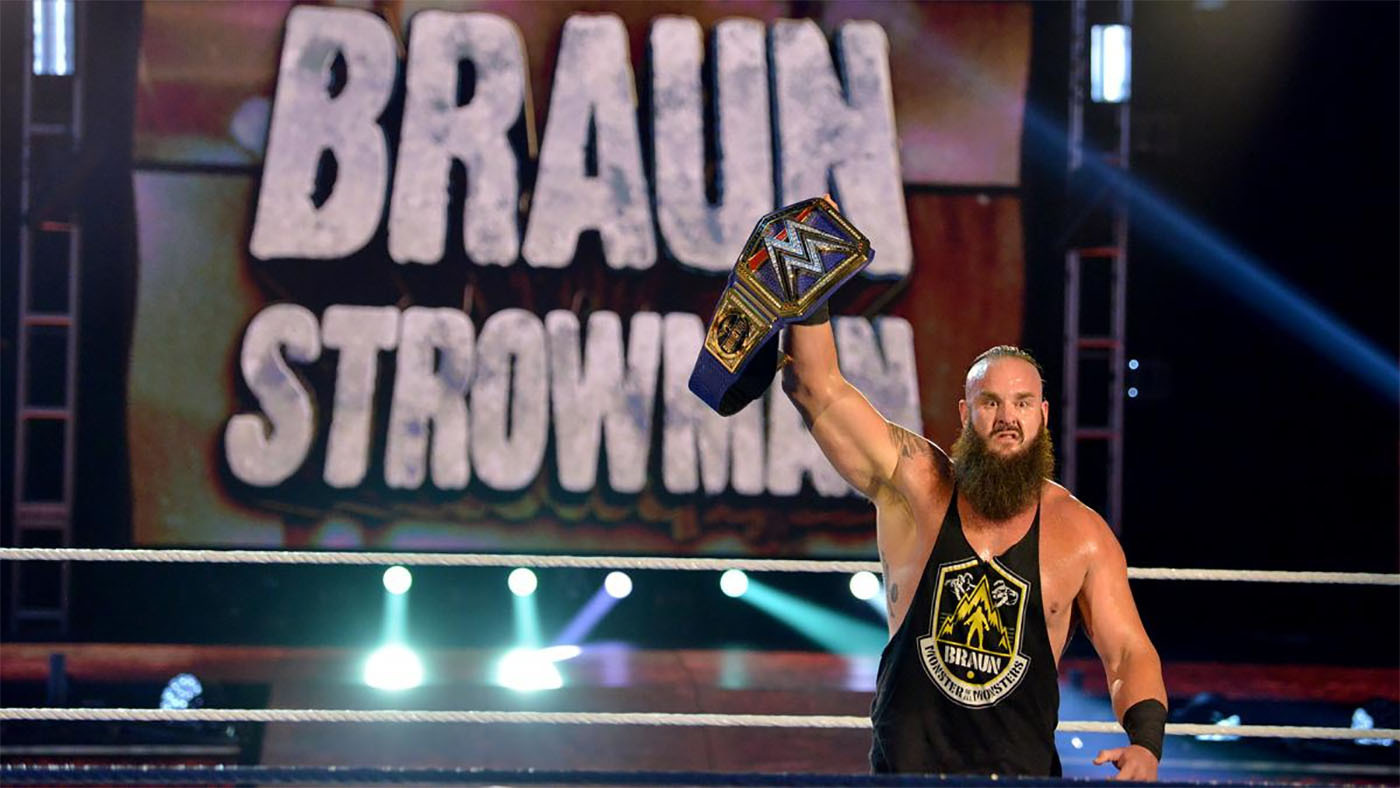 WWE FRIDAY NIGHT SMACKDOWN RESULTS
Opening Segment
Braun Strowman starts the night and gets on the mic. He says that when opportunity knocks you answer it. He says he took everything Goldberg had and refused to stay down. And to have it happen at WrestleMania made it the best night of his life.
Shinsuke Nakamura's music interrupts as the former Intercontinental Champion gets in the ring.
Braun asks what Shinsuke wants. Nakamura says that he's knocking on Strowman's door. He says that the last time he and his crew saw Strowman, they beat him. Braun says that no one tunes in to SmackDown for him and to get out of his ring. Shinsuke tells Braun that the weak are the meek and Strowman says that tonight he'll beat him. He turns and tosses Cesaro who tried to attack him from behind out of the ring. This allows Shinsuke to hit Braun in the head with a kick and get out of the ring.
Alexa Bliss and Nikki Cross (c) vs The Kabuki Warriors – Women's Tag Team Championship Match
Cross pins Kairi Sane after a Swinging Neckbreaker
Elias Promo
Elias appears on the perch that Corbin threw him off
Elias sings a song about his feud with Corbin and says that he wants to be in the Money in the Bank ladder match.
Dolph Ziggler and Tucker Promo
Dolph Ziggler and Sonya Deville go up to Michael Cole and say they are looking out for Mandy Rose
Tucker comes out and says that he knows Dolph is still looking for Mandy and shows him instagram photos of Otis and Mandy. He says that after what Dolph did last week, they are going to finish it now.
Dolph Ziggler vs Tucker
Ziggler wins via pinfall after a Super Kick
The Dirt Sheet
Miz and Morrison talk about WrestleMania and the good and bad moments. They then talk about retaining the SmackDown Tag Team Championships and being the greatest tag team of the 21st Century.
The duo then do a song and rap running down The Usos and The New Day.
This brings out The Usos who say that Morrison carried the team and try to drive a wedge between the champs. Miz continues to say he is not medically cleared to wrestle tonight. The New Day then come out and say that they have got a title match made for next week between The Miz, Big E and Jey Usos for the championships.
Lucha House Party (Lince Dorado and Gran Metalik) vs The Forgotten Sons
This is Forgotten Sons' official call up
Backstage
Alexa Bliss and Nikki Cross are celebrating their win earlier in the night
They approached by Carmella and Dana Brooke and ask since they weren't at WrestleMania if they can get a title shot. Alexa says no and that they shouldn't jump the line. Brooke makes a plea, which causes Cross to talk to Alexa in quiet. They accept Carmella and Dana's challenge
Bayley and Sasha Segment
Bayley says that Paige tried to ruin her WrestleMania, but she beat everyone. She says her greatest moment was when she defied all the odds. And that's because we're the best and the ultimate role models.
Sasha says that no one in the past, present or future can break up their friendship.
Tamina comes out to interrupt. Bayley starts to praise Tamina when she cuts her off and say that no one beat her at WrestleMania, and it took all the women to eliminate her. She challenges Bayley to a one-on-one match for the title.
Bayley declines, but offers that if she can beat Sasha Banks she can get a title shot. Sasha looks surprised by her friend.
Tamina accepts
Sheamus vs Cal Bloom
Sheamus wins via pinfall after a Brogue Kick
Braun Strowman vs Shinsuke Nakamura (with Cesaro)
Strowman wins via pinfall after a Power Slam
Firefly Fun House
Bray shows up on the titantron after Strowman's win. He says that he re-wrote history with John Cena when the lantern starts to talk. Bray says that Braun being a part of his family was a long time ago, but he hopes he remembers what he told him. Bray calls himself Braun's father and asks him to apologize for leaving him.
Braun refuses
Bray says that he created him and he could end him especially since he wants the Universal Championship back
Braun ends the segment by telling Bray that he's ready to "let him in" and mocks Wyatt by doing his "bye" wave.
Credit: Newsweek