U.S. jobless claims hit record levels for the second week in a row on Thursday as coronavirus pandemic shutdowns continued across the United States.
The Department of Labor released new data this morning that showed that 6.6 million Americans made initial claims for unemployment insurance in the week ending March 28—roughly double the number recorded the prior week.
According to the labor department, the numbers again marked "the highest level of seasonally adjusted claims" registered in history.
The largest increase in initial claims was recorded in Pennsylvania, which jumped by 362,012 in a single week. Ohio recorded 189,263 new claims.
More than 141,000 initial unemployment insurance filings were reported in Massachusetts while Texas and California reported 139,000 and 128,000 jobless claims respectively. South Dakota experienced the smallest increase in new unemployment claims, with 1,572 filed in the state.
The Department of Labor released the record-shattering figures a week after it revealed that 3.3 million initial jobless claims were made in the week ending March 21.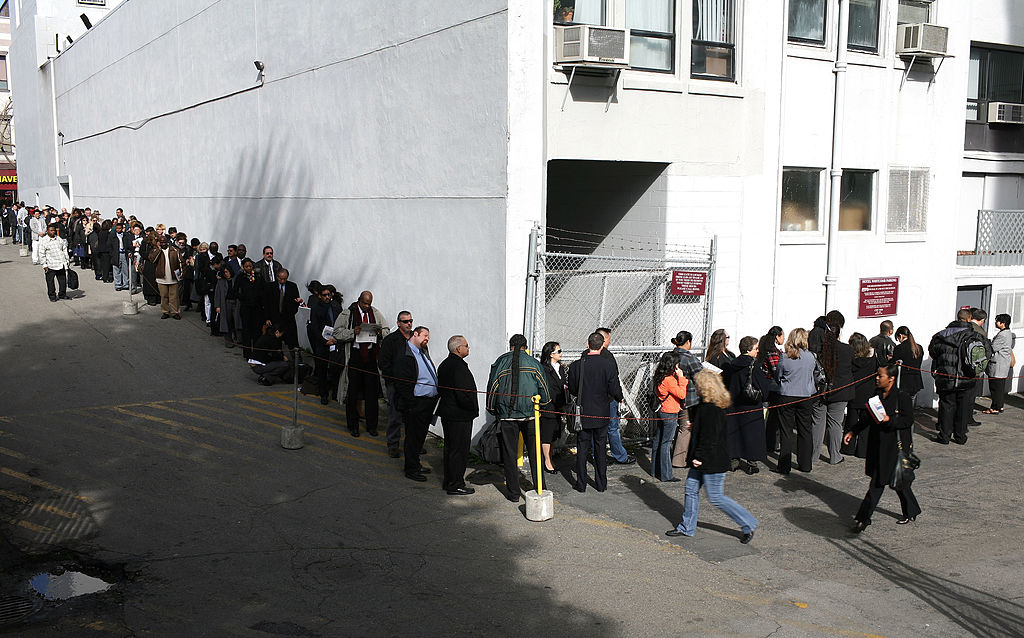 "Nearly every state providing comments cited the COVID-19 virus," the Department of Labor said. "States continued to identify increases related to the services industries broadly, again led by accommodation and food services."
In an emailed statement, the Atlantic Council's Director of Programs and Policy, Josh Lipsky, said: "Today's jobs report underscores the historic devastation that is happening in America's labor market. To put it bluntly, the U.S. economy went from full speed to full stop and millions of workers were not wearing seat belts. Across many communities and throughout small businesses the situation is growing more desperate by the day.
"However, state comments indicated a wider impact across industries. Many states continued to cite the health care and social assistance, and manufacturing industries, while an increasing number of states identified the retail and
wholesale trade and construction industries."
Reacting to the new jobless claim figures, the Nobel laureate economist Paul Krugman tweeted: "10 million new claims for unemployment insurance over 2 weeks. That's around 20 times the normal rate and understates actual job losses. For comparison, 9 million jobs lost in the Great Recession."
In a release on the huge spike in jobless claims, the Economic Policy Institute's senior economist Heidi Shierholz said the figures were a "portrait of disaster" and added: "It's important to step back from today's UI numbers and remember that this labor market crisis didn't have to happen. Due to failed leadership, we twice missed the chance to avert widespread job loss. Now policymakers must act to avoid greater damage."
Credit: Newsweek