Coronavirus cases have soared past 1.28 million across 183 countries and regions, as of Monday, according to the latest figures from Johns Hopkins University. More than 265,400 people have recovered from infection, while more than 70,000 have died.
The U.S. is now the epicenter of the outbreak, with more than 337,600 cases confirmed, and is expecting a surge in deaths over the coming week.
Italy has reported new signs of the pace of the outbreak slowing down. Japan is expected to declare a state of emergency across the country as its capital Tokyo struggles to cope with a growing number of cases.
Italy's daily death rate decreases significantly
Italy has reported its lowest daily death toll in over two weeks, reporting 525 new fatalities on Sunday, the smallest rise since mid-February, the country's civil protection department confirmed.
The latest decline was a 23 percent drop in fatalities from the 681 deaths reported on Saturday, the department noted.
The country also saw its second consecutive decline in the number of patients receiving critical care on Sunday, dropping from 3,994 on Saturday to 3,977 on Sunday, Italian health officials confirmed.
The number of non-critical patients also dropped for the first time on Sunday, falling from 29,010 to 28,949 in 24 hours on Sunday.
Lombardy remains the country's worst-hit region, with more than 50,400 cases, followed by the Emilia-Romagna and Piedmont regions, which have at least 17,000 and 12,300 confirmed infections respectively as of Sunday, according to the Italian Ministry of Health.
The latest figures mark a major decline in the rate of infections in Italy, which is among the nations worst-hit by the outbreak, with nearly 129,000 confirmed cases, as of Monday, including over 15,800 fatalities, the world's highest death toll.
"The curve [of the spread of the virus] has started its descent and the number of deaths has started to drop," the director of Italy's national health institute ISS (Istituto Superiore di Sanità), Silvio Brusaferro, told reporters.
"If these data are confirmed (in the coming days), we will have to start thinking about Phase 2," he added, referring to the possible easing of the country's month-long national lockdown.
The head of the civil protection department, Angelo Borrelli, warned, "This good news [the recent decline in cases] shouldn't make us drop our guard."
While the country's lockdown measures will be extended through Easter, the government is devising a five-point plan for opening up businesses in stages, while keeping several social distancing measures in place for some time, Italy's Corriere della Sera newspaper reports.
Under the new plan, residents would be required to wear face masks at work and remain six feet apart in public at all times. Anyone showing the slightest of COVID-19 symptoms would need to be immediately reported to health officials and be isolated for two weeks. The country is also reportedly planning to build more hospitals specifically dedicated to COVID-19 virus patients across the country.
Italian Prime Minister Giuseppe Conte is also reportedly looking to secure tens of thousands of certified blood test kits to ascertain how many in the country have developed antibodies. Those who have developed antibodies may have immunity and be allowed to work, AFP reports.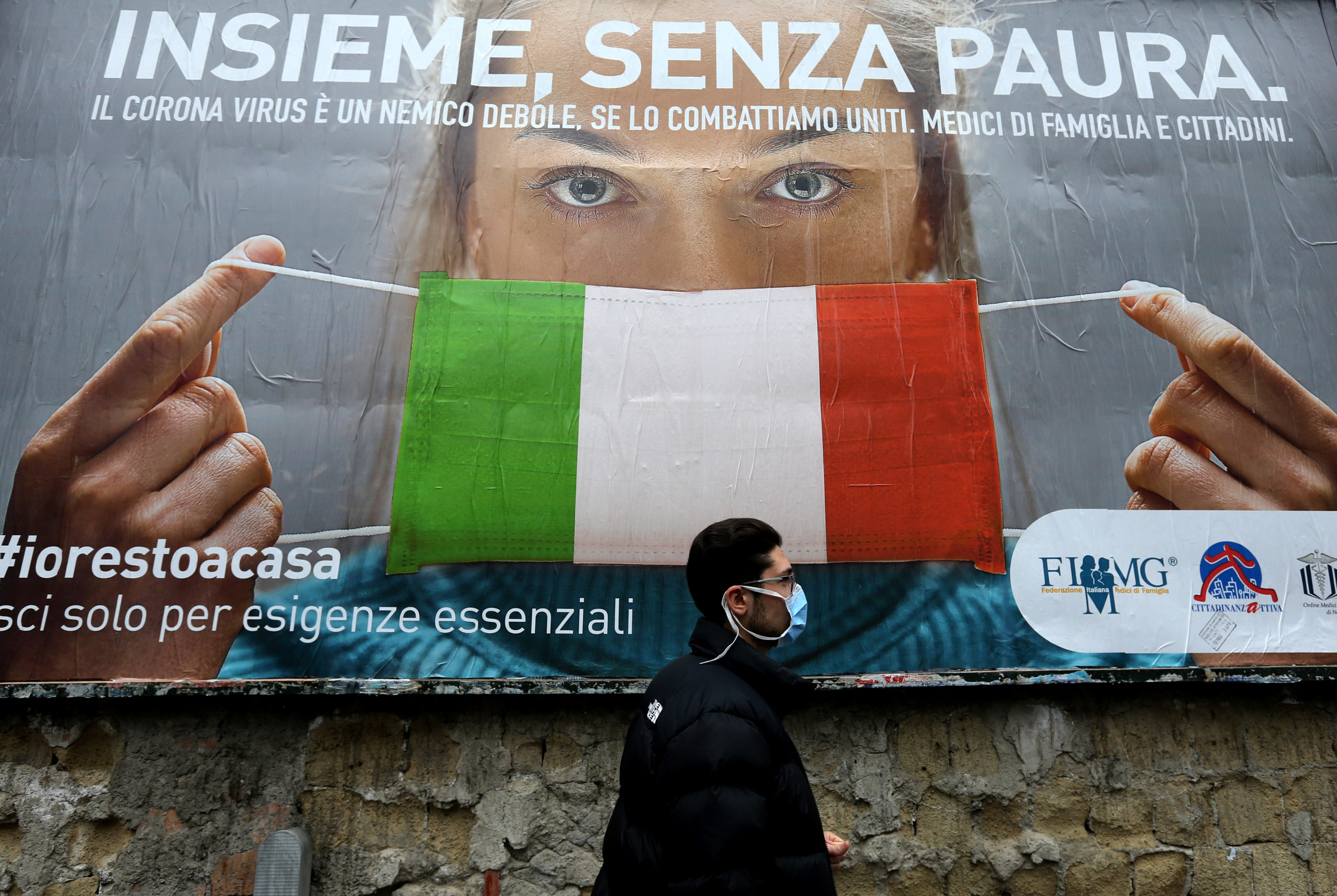 U.S. warned to brace for "hardest and saddest week"
The number of U.S. cases are at more than 337,600, as of Monday.
The U.S. death toll has passed 9,600, as of Monday.
New York state still dominates the country's total infections, with 122,031 cases, as of Sunday, according to the latest figures confirmed by New York Governor Andrew Cuomo.
The U.S. is expected to see a surge in deaths over the coming week and maintaining social distancing practices and other mitigation measures will be crucial in the next two weeks.
U.S. Surgeon General Jerome Adams told Fox News on Sunday: "This is going to be the hardest and the saddest week of most Americans' lives, quite frankly. This is going to be our Pearl Harbor moment, our 9/11 moment, only it's not going to be localized. It's going to be happening all over the country."
He added that "there is a light at the end of the tunnel if everyone does their part for the next 30 days."
While New York continues to report a devastating total of confirmed cases, Cuomo noted that fatalities across the state have dropped for the first time over the past few days, the significance of which is "too early to tell," he said at a press conference on Sunday.
South Korea sees fewer than 50 new cases
South Korea continues to report breakthroughs in curbing the spread of the virus. On Monday, the country reported 47 new confirmed cases, the Korea Centers for Disease Control (KCDC) reported.
It is the first time South Korea has seen less than 50 new infections since its peak back in February, when 909 new infections were recorded on February 29.
The latest decline in new cases was also attributed to a drop in daily demand for tests from around 10,000 to 6,000 over the weekend, the country's Vice Health Minister Kim Gang-lip confirmed.
The country, which formerly reported the most cases outside China, has been seeing less than 100 new daily cases for the past month. The latest figures are a significant decline from when it previously saw an exponential number of new cases (at least 500 or more new infections per day).
But the country's health officials warn a second major wave of cases could emerge at any time, with infections among various small churches, hospitals and nursing homes still on the rise, Reuters reports.
"We are taking great caution against any optimistic expectations with this one-off figure," Kim said at a briefing.
The country's rigorous testing and lockdown measures have been key factors for the containment of the virus. But movement among residents under quarantine orders has increased by 20 percent over the weekend, Kim confirmed.
Starting Sunday, the government has imposed stricter fines for those who violate self-quarantine mandates. Violators can face up to 10 million won ($8,100) in fines or one year in prison along with smaller fines.
Japan expected to declare state of emergency
Japanese Prime Minister Shinzo Abe is expected to declare a state of emergency over parts of Japan, a government official confirmed on Monday.
Japan has seen its confirmed cases double over the past week, bringing its latest total to 3,654, including 85 deaths.
Infections in Tokyo have surged past 1,000. With shortages in staff and beds, the city's medical system is said to be on the brink of collapse, Reuters reports.
The emergency declaration is likely to be made over the greater Tokyo metropolitan area and possibly Osaka and the Hyogo prefectures in western Japan, Yomiuri reports.
Under the declaration, governors in the affected areas would be able to require residents to remain at home and refrain from all activities except for grocery shopping and for providing essential services such as health care and transportation.
Various public facilities and other places of large gatherings, including schools, social welfare facilities, theaters, music venues and sports stadiums, are also expected to be restricted or be closed temporarily.
A final decision has yet to be made on the emergency declaration, a spokesperson for the government, Yoshihide Suga, said. But any new measures would be in effect from Wednesday if the state of emergency is declared on Tuesday, according to The Japan Times.
A doctor specializing in infectious diseases at a major hospital in the greater Tokyo area told Reuters: "We could empty out an entire ward and use it just for corona patients, but that means those patients (with other illnesses) will have to go elsewhere."
"If we can't do that, it will lead to the virus spreading all through the hospital and lead to a collapse of our medical system," the doctor added.
Japan recently postponed the 2020 Tokyo Olympics, which were due to take place this July, until next year due to the ongoing pandemic.
The graphic below, provided by Statista, illustrates the spread of COVID-19 in the U.S.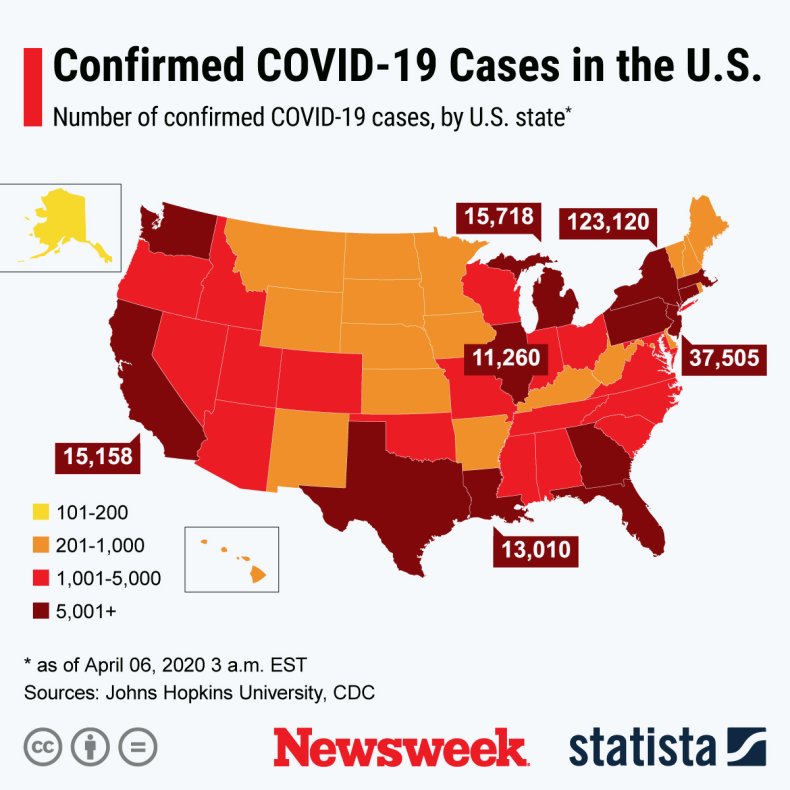 Data on COVID-19 cases is from Johns Hopkins University unless otherwise stated.
Centers for Disease Control and Prevention Advice on Using Face Coverings to Slow Spread of COVID-19
CDC recommends wearing a cloth face covering in public where social distancing measures are difficult to maintain.
A simple cloth face covering can help slow the spread of the virus by those infected and by those who do not exhibit symptoms.
Cloth face coverings can be fashioned from household items. Guides are offered by the CDC. (https://www.cdc.gov/coronavirus/2019-ncov/prevent-getting-sick/diy-cloth-face-coverings.html)
Cloth face coverings should be washed regularly. A washing machine will suffice.
Practice safe removal of face coverings by not touching eyes, nose, and mouth, and wash hands immediately after removing the covering.
World Health Organization advice for avoiding spread of coronavirus disease (COVID-19)
Hygiene advice
Clean hands frequently with soap and water, or alcohol-based hand rub.
Wash hands after coughing or sneezing; when caring for the sick; before, during and after food preparation; before eating; after using the toilet; when hands are visibly dirty; and after handling animals or waste.
Maintain at least 1 meter (3 feet) distance from anyone who is coughing or sneezing.
Avoid touching your hands, nose and mouth. Do not spit in public.
Cover your mouth and nose with a tissue or bent elbow when coughing or sneezing. Discard the tissue immediately and clean your hands.
Medical advice
Avoid close contact with others if you have any symptoms.
Stay at home if you feel unwell, even with mild symptoms such as headache and runny nose, to avoid potential spread of the disease to medical facilities and other people.
If you develop serious symptoms (fever, cough, difficulty breathing) seek medical care early and contact local health authorities in advance.
Note any recent contact with others and travel details to provide to authorities who can trace and prevent spread of the disease.
Stay up to date on COVID-19 developments issued by health authorities and follow their guidance.
Mask and glove usage
Healthy individuals only need to wear a mask if taking care of a sick person.
Wear a mask if you are coughing or sneezing.
Masks are effective when used in combination with frequent hand cleaning.
Do not touch the mask while wearing it. Clean hands if you touch the mask.
Learn how to properly put on, remove and dispose of masks. Clean hands after disposing of the mask.
Do not reuse single-use masks.
Regularly washing bare hands is more effective against catching COVID-19 than wearing rubber gloves.
The COVID-19 virus can still be picked up on rubber gloves and transmitted by touching your face.
Credit: Newsweek